The new Nina Ricci fragrance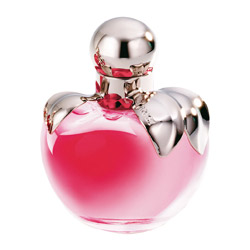 Pretty Nina is Nina's little sister
A sweet and gourmand limited-edition fragrance, a girly interlude all decked out in a flashy-pink and glossy-white outfit. The perfume features new notes like raspberry, grapefruit and rose petals.
Described as a juice concocted like a dessert tray, Pretty Nina is a fresh-and-fruity floral scent blending juicy raspberries, sweet green apple, tangy grapefruit and light petals over a base of apple-tree wood and gourmand caramel and vanilla notes.
Top note is Grapefruit, Lime, middle note israspberry, green apple, jasmine and finally base note is rose, apple-tree wood, musk, vanilla and caramel.
Nina's apple bottle has blushed pink, and the leaves and cap flaunt a glossy-white metallic hue.
Available in limited edition as an Eau de Toilette, 1.7 oz.