El Pan De Antes, the French bakery and pastry in Las Terrenas
The French bakery El Pan De Antes existed since 2005 and will give you the authenticity of pastries, cakes and breads that can be found in France.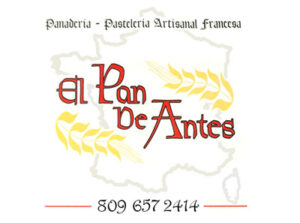 First, 95% of manufacturing components are imported from Europe such as butter, which comes from France and chocolate from Belgium…
Located in the magnificent Plaza Kanesh colonial style between the main street Calle Duarte and Calle El Carmen, you will enjoy all the convenience of a breakfast formula for RD $100 with espresso, fresh fruit juice and pastry, or the RD$ 120 formulas with a large coffee or hot chocolate, fresh fruit juice, a quarter of a baguette, butter and jam.
El Pan De Antes offers a variety of real traditional breads such as French baguette (300 grams), épie, cereals bread, country bread, black bread, string, ball, fougasse, panini and of course his Pan de Antes with pointed ends.
Delicious pastries abound, and you will taste authentic croissants and pain au chocolat, chocolate croissants, almond croissants with cream, almond croissants, apple turnovers, raisin bread with cream pastry and Belgium chocolate…
If you do not yet have the mouth watering, attention here are the traditional French cakes: éclairs, religieuses, mille-feuilles, strawberry tarts, apple pies, Paris-Brest, homemade cookies, cakes with candied fruit, pastry cream, pastry cream prunes, vanilla pastry cream…
For your birthday cakes, El Pan De Antes will also be there to serve you, including with three chocolate cakes, mousse Chinola, lemon, Opera, Charlotte or at your disposal for a particular command.
For the peckish during work lunch breaks, or you have at your disposal excellent croissants ham cheese, bread crumbs croquemonsieurs, homemade pissaladières, Quiché Lorraine, onion quiches…
Beyond quality, El Pan De Antes do not provide less service delivery and by calling 809 657 2414 from 7am to 11:30 am, 7 days 7, at the office or at home, we can deliver your order without hesitation with a concho (travel at your expense).
For managers of hotels and restaurants that are not yet customers in El Pan De Antes, do not hesitate to call us at 809 657 2414, Elsa and Nicolas will guarantee you the choice, quality and service you need.
EL PAN DE ANTES
The French Bakery and Pastry
Calle el Carmen #7 – Plaza Kanesh – Las Terrenas
Phone : 809 657 2414
Open : from 7:00am to 7:30pm from Monday to Saturday
and Sunday from 7:00am to 1:30pm
Email : moc.liamg@setnaednaple