Saturday, February 12th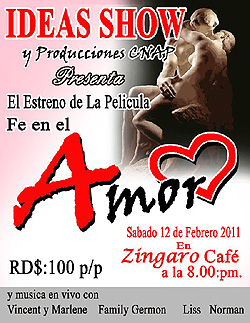 Monday, February 14th will be the occasion to celebrate like every year Valentine's Day and companions will be able to enjoy this special commemoration of their love during all the weekend.
On Saturday, February 12th you are invited to assist to the movie premiere of Fé en el Amor a film produced by the Ideas Show and Producciones CNAP.
The activity will take place at Zingaro Café in Las Terrenas, at 8 p.m., and cost only 100 p/p.
Marlène and Vincent, the Germon Family and Liss Norman will also be there with music !
Don't miss it !
Meeting with Rafaél Andújar at the Cayuco
Friday February 25th 2011
La Casa de la Cultura de Las Terrenas is pleased to invite you to a meeting with Dr. Rafael Andújar, who will talk about the Culture of Las Terrenas.
The event will be held at Restaurant El Cayuco, in the fishermen village of Las Terrenas, at 5.00p.m.
CABARET PARTY with Piano Bar & Liss Norman, Mosquito Bar
Saturday February 26th, 8 p.m.
Don't miss this Saturday the Cabaret Party that will take place at the Mosquito Bar, to celebrate the birthday of the owner. Enjoy the music of Liss Normanuntil dawn, a night full of style and elegance.
Carnival parade of Las Terrenas
Sunday February 27th, starting at 3 p.m.
The traditional Carnival parade is scheduled for this Sunday starting at 3 p.m.
This year, the parade will start in the play and end in Punta Popi. Come and enjoy this cultural celebration !
Jazz Latino at the Paco Cabana
Sunday February 27th, starting at 8 p.m.
This Sunday February 27th, in order to celebrate the Dominican Independence Day, Paco Cabana Bar and Restaurant invite you to enjoy a night of Latin jazz with a live concert of Rubiel Cabrera Trio, from Santo Domingo and Cuba.
Make your reservation by calling 809 602 04 06 or directly at the Paco Cabana bar, admission is FREE.