Whale watching season has already started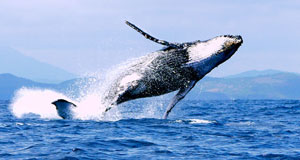 The Humpback whale season has finally arrived ! The Dominican Republic's whale watching season in the country's northeast peninsula, Samaná has already started ! Year after year, thousands of international tourists and residents from the Dominican Republic travel to Samaná to enjoy this fabulous spectacle, this year is taking place between January 15th and the 31st of March.
Humpback whales in the Dominican Republic Every winter, the majority of the North Atlantic Humpback whale population (approximately 12,000 whales), migrate between 2,000 and 4,000 miles from their northern feeding grounds in the Gulf of Maine, the east coast of Canada, Greenland and Iceland, to the warm Caribbean waters of the Dominican Republic to reproduce.
These magnificent whales then spend the months of January, February and March cruising the North Dominican coastline, courting and competing for the opportunity to mate (rather like singles in bars…). This is also the time when pregnant females will give birth to their young (after an 11.5 month gestation !).
Throughout the mating season, Samaná bay itself is visited by more than 1,500 Humpback whales, meaning that at any one time there may be as many as 300 whales in the area.
Humpback whales have been migrating to the Dominican Republic for mating season for centuries; in the Los Haitises national park, indigenous drawings can be seen depicted the whales and Christopher Columbus recorded seeing them in 1493 in his ship's log.