Homologated by the National Dominican Ministry of Education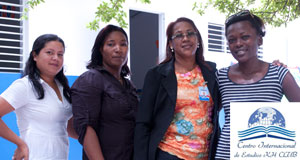 This Monday in Las Terrenas a new great private school opened its doors, The International Center of Studies KH Club (situated in the old Tio Conejo), Francisco del Rosario Sanchez Street, Las Terrenas.
Retaken by a French-Congolese couple, Lina Muzerwa and Pascal Berange, the school was adapted to the standards for students, completely renovated and painted, has new chalk boards, a ground for basketball, tiling in the bathrooms, roof etc… From kindergarten until high school (whose opening was mandatory). The first students were able to find their classrooms completely renovated.
The teachers are Dominicans or Haitians (who studied in the Dominican Republic) for main courses and Classes are of course given in Spanish. For foreign languages, the students will discover or reinforce learning English, as well as Italian, French and Russian with native speaking teachers.
The Director, Sandra Coats de Los Santos, holds a Bachelor's Degree in Social Science with honors and counts with 10 years of experience in school. The nurse holds a state diploma, and the secretary speaks both Spanish and French.
The International Study Centre KH Club provides noon lunches from a cook with a state diploma. In the afternoon, entertainers and language teachers have activities in English, French, Italian or Russian, depending on the day of the week. For example, if the class of foreign language is English, the day's activity will also be in English.
Children will enjoy physical education with the following sports: Basketball, Volleyball, indoors and outdoors, Athletics, base-ball, football, diving, swimming in the Alisei, Tennis, Barbecue, riding in Nomadas, surf etc.
Regarding activities, alternating with sports, they will learn gardening, theater, DIY, building workshops of small jewelery, puppets, board games, book club, club spelling, math, science etc.
The school will quickly create a parents' association in order to take part and be an integral par of the development of the International Centre for Studies KH Club. Water is free, and our cafeteria offers fresh juice, fruit salad and bread.
It is important to highlight that the International Centre for Studies KH Club is one of the few private schools in Las Terrenas which is accredited by the Dominican Ministry of National Education
The approval means that besides being nationally registered as belonging to schools that respect norms and standards of education and safety, your child will be registered and may then be accepted in other schools of the country or in the United States.
Mrs. Minerva Coplin Matos, BA, an official of the Ministry of Education and person responsible for the approval and supervision of the district schools in the region, offered her full support so that The International Centre of Studies KH Club could open its doors in top condition for the 2015 – 2016 school years.
This morning at 8 am, after hoisting the flag with hand on heart, the new students sang the Dominican National Anthem.
In picture : Maria Cristina Cadena, Sandra Coats de Los Santos, Minerva Coplin and Lina Muzerwa