Viva Wyndham V Samaná is located in Las Terrenas, in Cosón Bay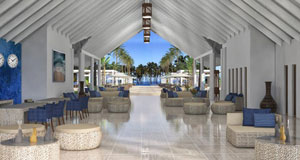 With a paramotor flight, led by Viva Wyndham Resorts President Ettore Colussi, the all-inclusive resort company opened its doors to its first adults-only concept. The all-inclusive adult-only property Viva Wyndham V Samaná is located in Las Terrenas, in Cosón Bay.
The flight crew included 10 pilots who took off at the Viva Wyndham V Samaná and landed at the Viva Wyndham V Heavens, Puerto Plata, inaugurating both resorts. The route covered approximately 124 miles over the Dominican's north coast.
What better way than a paramotor journey to celebrate these inaugurations. Flying this route for the very first time from V Samaná to V Heavens along with these pilots was absolutely amazing, said Colussi. These resorts offer an elevated twist to the all-inclusive concept. It has been designed with the adult modern traveler in-mind, who wants to live unexpected and exceptional experiences, which is why we wanted to do something exciting for these openings.
About The Properties
Viva Wyndham V Samaná, located in Cosón Bay, features 144 rooms with ocean or garden views, including 48 Vibe Rooms located on the ground floor with private plunge pools. The resort also offers à la carte restaurants with unlimited access and reservations are not required, as well as yoga classes, Pilates, watersports, lounge areas and much more.
For more information, call 1-800-WYNDHAM or visit www.vivawyndhamresorts.com and www.facebook.com/vcollectionresorts/.
About Viva Wyndham Resorts
Viva Wyndham Resorts features all-inclusive properties throughout the Bahamas, Dominican Republic and Mexico. Viva Wyndham Resorts' multilingual staff, tropical settings, extensive amenities and thorough entertainment line-up ensures guests a truly customized vivid all-inclusive experience.
As part of the brand's passion for life, it strives to protect all surrounding environments and cultures by implementing green programs throughout its resorts.