To live or retire in the world in 2016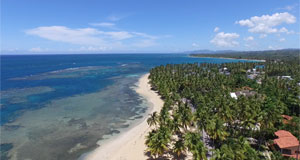 The final landing place in the New World for Christopher Columbus and his crew in 1493, today the Dominican Republic is a white-sand haven that is surrounded by warm turquoise waters and enjoys year-round sunshine. This affordable island paradise boasts not just beaches — both remote and resort — but also virgin jungle and mountain hideaways (often with ocean views).
The Dominican Republic is the Caribbean but more, a melting pot with an eclectic population and a diverse history informed by Afro-Antillean, European, North American, and Latin cultures. This not-so-little island is one of the most affordable spots in the whole of the Caribbean, a place where you could embrace a white-sand retirement even if your retirement nest egg is nothing more than a monthly Social Security check. If you can swing a travel budget, island-hopping around the Caribbean could be your new retirement hobby from this convenient base.
The Dominican Republic makes establishing residency easy, and the country embraces — even rewards through incentives — foreign investors. Residents are eligible for local home financing, can import household goods and a car tax-free, and can qualify for citizenship (and thus a second passport). As a fun bonus, residents pay for higher education in pesos, while nonresidents pay in dollars. If you're looking to take a class or two in retirement, the cost would be trifling.
In addition, residents can and do work here. Some expats own and operate gyms, hotels, boating and surfing schools, restaurants, boutiques. Others capitalize on skills from previous lives and careers, skills that are often much needed and valued locally (pool building, architecture, mechanics, etc.). Others offer consulting services for overseas clients or run websites with overseas client-bases. These enterprises often fully fund the expat's local lifestyle.
Las Terrenas, once a hamlet and still largely unknown among North Americans, was discovered in the 1970's by Europeans looking for an affordable Caribbean getaway. Today, Las Terrenas is a vibrant international community with residents from all over the globe, including French, German, Polish, Swiss, Italian, Dutch, and British expats. The eclectic population means you can find exotic food imports from Europe in the supermarkets, freshly made Swiss cheese and German sausage at the local shops, excellent international restaurants, and an active and mixed group of folks to welcome you to their well-established community.
Despite its thriving foreign population, costs in Las Terrenas have remained local. A couple could live well here on just US$1,200 a month, the Las Terrenas property market bubbled through 2008 then crashed, and prices remain down. You could buy a loft-style apartment, ready to move into, for less than US$100,000, a townhouse in a gated community for less than $200,000, or a private villa for as little as US$250,000.