With 53.32% of the vote for the PLD and its allies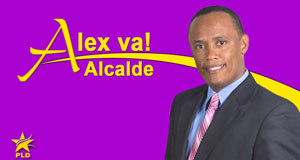 These results were confirmed with the issuance by the Central Electoral Board (JCE) Bulletin Nº9, where the form below including all the results of the other candidates.
So, Alex Garcia (PLD) won with 40.64% of the votes and a total of 3,362 votes and the PLD and its allies won a total of 53.32% with 4,411 votes.
The Social Christian Reformist Party (PRSC) Vanderhorst Mariana gets 16.12% with 1,334 votes and the PRSC and its allies with a total of 27.27% with 2,256 votes.
The Social Democratic Institutional Bloc (BIS) Joseph Alexis Martinez gets 17.79% with 1,472 votes.
Note that for the first time in history has presented to the municipal elections of Las Terrenas a Frenchman, Jean-Claude Fernandes, on behalf of the Green Socialist Party (PASOVE).
Results :