The new fragrance by Emanuel Ungaro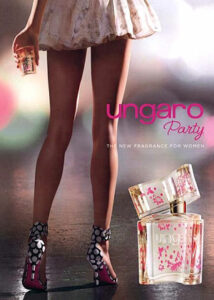 Soon it will be spring, a renewal season, during which the buds appear and the flowers open, putting scents all over the fields.
So what better moment could we wait for to present the new fragrance by Emanuel Ungaro ?
Named Ungaro Party, this new perfume opens on flowered and fruity notes, with watermelon, rose, lily of the valley, and a touch of lemon. Then sandalwood and musk give a warn scent to it.
An explosive mix, a festival of femininity and freshness that embody the glamour and natural.
A spirit perfectly reflected by a simple, transparent bottle, punctuated with small pink flowers.
By Lucie H