The color pen and the adhesive varnish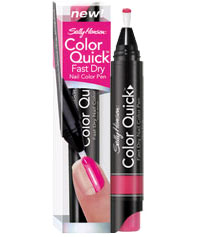 It's a fact: many men observe the hands of a woman because their appearance is a mirror of the personality of this one.
And of course, the nails constitute a very great part of it.
Then, we make efforts, we take care of them, we push the cuticles, we nourish them, we cut them, and we file them…
Until the hour to apply a pretty nail varnish arrives.
Easy to say, but not easy to do, and some women prefer transparent nail varnish to avoid disasters when the hand shakes.
There are two new ways of applying varnish, which will make the task perhaps easier to some of us:
The Color pen that functions like a marker to pass on the nail, the varnish leaves when you push, what enables you to control the quantity, proposed by Sally Hansen among others.
And the nail patch, or adhesive varnish that rather works like a sticker to apply to the nail.
The advantage of this product is that no time of drying is required and no awkward brush traces are possible !
It's proposed by various names.
Then ready for goddess nails ?
By Lucie H