My Amor and Amor pour Homme
Amor. The name and the bottle of this perfume composed by vanilla, jasmine and blackcurrant, evokes its seductive universe, as a love song.
For the Valentine's Day, Cacharel launches the perfume My Amor. It's the same sweet fragrance, but the bottle is designed by the artist Kim, and is available in limited edition. But the funniest par is that the bottle is totally customizable, and you can put stickers on it, to declare your love to your spouse.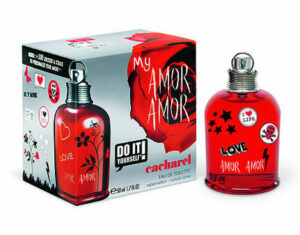 Concerning the fragrances of Amor pour Homme (for men), it's the same perfume of love that we find mixed with an explosive creativity, thanks to a combination of vetiver and citrus fruits.
Amor pour Homme is declined in Amor pour Homme Sunshine, a tropical and sparkling fragrance, and Amor pour Homme Tentation, with aphrodisiac ginger, tangerine and cedar.
Up to you to choose one for your lover !
By Lucie H