Kampo at Gaia Club
On Friday May 6th, 10 pm
Conference The last survivors, City Hall, Las Terrenas
This Friday May 20, 6 p.m.
Once upon a time… in the West Indies, there was a large number of mammals, sloths, primates, rodents and insectivores. Then the men appeared and today, only 15 of these native specimens exist, and they are part of only two families: solenodonte and Jutías.
They are in extreme danger of extinction.
This Friday, May 20, at 6 p.m. at the 2nd floor of the City of Las Terrenas, a conference is organized in the presence of Dr. Jose Nunez, Dr. Pedro Martinez, and the President of the Ornithological Society of Hispaniola (SOH), Mr. Jorge Brocca.
This meeting is organized by the City Hall of Las Terrenas with the support of Ecotopia Park, the Hispaniola Ornithological Society (SOH) and the Project The last survivors from the Durrell Wildlife Conservation Trust.
Consult Colmar-Andreas Serra for more information: Cel 809 299 4820.
LISS NORMAN PROJECT, TIKI Bar, Las Terrenas
This Friday May 20, 8 p.m.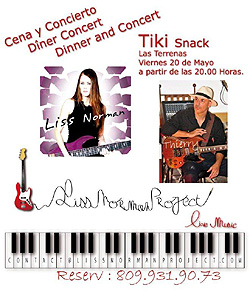 Friday May 20th at 8 pm, the LISS NORMAN PROJECT will be at the Tiki bar, with its piano, bass and guitar.
The presentation includes a variety of rhythms like jazz, blues, bossa, lounge, dance, ballads… with lots of improvisation.
We don't know where we're going. But we're on our way, with you !
See you on Friday ?
Thierry & Co
Reservations Tiki (Paseo): 809.931.90.73.
La Pergola fait son show, La Pergola Restaurant, #80 Calle El Carmen, Las Terrenas
Friday May 27th, 2011, starting at 8 p.m.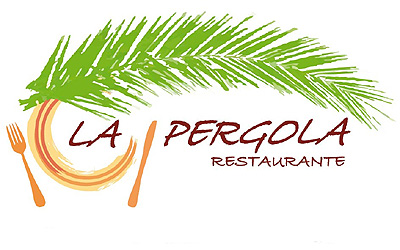 La Pergola invites you this Saturday May 27th to a dinner show /café theater Rires et Délires.
Adaptation and staging by Eric & Alan.
Gaspacho and Catalan Bread with Serrano Ham
Valencia Paella
Mantecado icecream
Price : 690 Pesos (Under reservation)
SPECIAL OFFER : Côtes de Provence 690 Pesos
Tel : 809 240 6999 / Cel : 829 898 4142
#80 Calle El Carmen – Las Terrenas
Price doesn't include 10% for service