Marathon Balcones del Atlántico por una Terrena Verde
Saturday June 4th, 2011
This Saturday, June 4th is the first Marathon Balcones del Atlántico por una Terrena Verde, a unique and unforgettable event.
About 300 people are expected to participate, and everyone can be part of the experience.
If you don't feel prepared to run the 10k, choose the 5k option, walking and running.
On each entry, RD $150 will be donated to the foundation Kilometres for Education (www.kilometrosporlaeducacion.org).
From 4 pm to 7:30 pm, the road from Punta Popi to the Marina will be closed.
After the marathon, from 8 pm to 10 pm the Restaurant Porto of Balcones del Atlántico organizes a Happy Hour: Pay 1 drink of Grey Goose, Eristoff, Dewar's White Label, Dewar's 12, and Ron Bacardi and get two.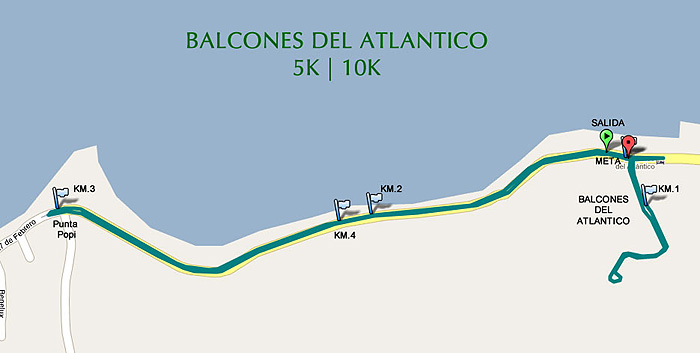 World Oceans Day, Playa Popy, Las Terrenas
Wednesday June 8th, 2011
Second Edition of Las Terrenas 10K, Punta Popy, Las Terrenas
On Sunday, June 12th, 2011, at 8 a.m.
The Second Edition of Las Terrenas 10K is a ten-kilometer road race which has the intention of placing Las Terrenas in the context of national and international athletics events.
On Sunday, June 12, 2011, at 8 a.m. the II Edition Las Terrenas 10K will take place out of Punta Popy Beach in Las Terrenas. This event is primarily sponsored by Orange Dominicana, with the support of the Dominican Federation of Athletics and the Ministry of Tourism. This is a significant event for Las Terrenas and Samaná, and it has our undivided support, commented Dr. Elsa de León, Deputy Secretary of Tourism for the Samaná Province.
The road race will be certified by the International Association of Athletics Federations (IAAF) thus giving it a valid national and international importance. With this significant accreditation, Las Terrenas 10K will become part of the international calendar of races and marathons.
Las Terrenas is an ideal place for such an event, says Rodolfo Figueroa Martinez, Technical Director of the Mexico City Marathon and Official and International Technical Director for the International Association of Athletics Federations, who is responsible for the certification of this road race.
For more information, visit our Website www.lasterrenas10k.com; follow us on Facebook at www.facebook.com/lasterrenas10K, or contact the Organizing Committee at 829 343 5446 or 829 645 7278.
The Organizing Committee is a group of collaborators which comes together to implement sporting events aimed at the promotion of athletics in our region, with the intention of encouraging sports for our youth, and placing our area at the forefront of national and international athletics while promoting the natural beauty of Las Terrenas and the Samaná Peninsula.
Meeting about copyrights on music, Cayuco Restaurant, Fishermen's Village, Las Terrenas
Friday June 10th, 2011
The payment of royalties for all businesses that use music. Law 65-00 is the subject of a meeting to be held Friday, June 10th, from 5:30 pm at the restaurant El Cayuco, in the Fishermen's Village of Las Terrenas.
The President of the General Society of Authors, Composers and Music Publishers Inc. Dominicans (SGACEDOM), Valerio de Leon, and Rosaura de Jesús, a lawyer specialized in copyrights, will attend the meeting.
As this is a topic of general interest, everyone is invited to take part to the event.
SGACEDOM office in Las Terrenas is located on Calle Duarte, No. 102, second level, 809 240 6698.
Municipal Games 2011, Las Terrenas
From June 19th to July 16th, 2011
The Municipal Games 2011 will take place from June 19th to July 16th in Las Terrenas, with base-ball, softball, volley-ball, karate, boxing, swimming etc…
You can sponsor this event.